Machine vision encompasses all industrial and non-industrial applications during which a mixture of hardware and software provide operational guidance to devices within the execution of their functions supported the capture and processing of images. Though industrial computer vision uses many of an equivalent algorithms and approaches as academic/educational and governmental/military applications of computer vision, constraints are different. Industrial vision systems demand greater robustness, reliability, and stability compared with an academic/educational vision system and typically cost much but those utilized in governmental/military applications. Therefore, industrial machine vision implies low cost, acceptable accuracy, high robustness, high reliability, and high mechanical, and temperature stability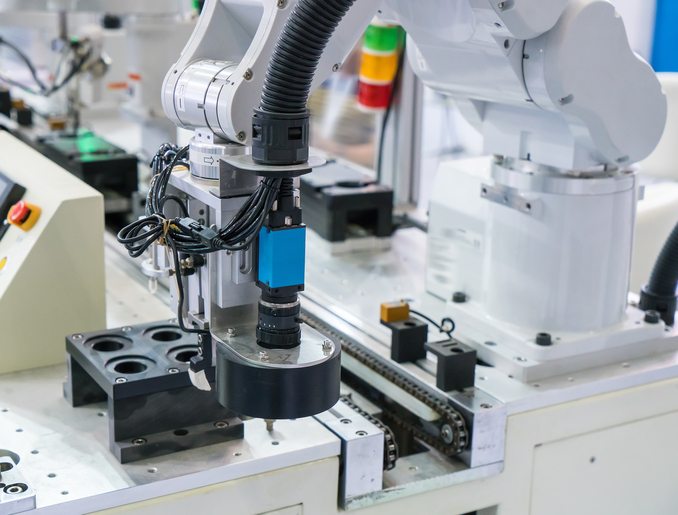 Advantages of Machine Vision
The high social benefits of machine vision systems:The main benefits of machine vision to society are: saving time; reducing production costs; improving productivity 

and merchandise 

quality; reducing the labor intensity of testing and inspection personnel; reducing 

the amount 

of unqualified products; improving machine utilization 

then 

on.
The strong peripheral benefits:The history of 

the event 

of automation technology 

is that the 

history of machines gradually replacing humans. The human brain, limbs, senses, and nerves correspond to CPU, motion control, sensors and networks respectively. However, in many cases, human vision is increasingly unable 

to satisfy 

the wants 

. Compared with human vision, machine vision has 

the benefits 

of high speed, high precision, super vision, macrospur, objectiveness, no fatigue, and environmental restriction.
The wide applications: Advanced machine vision system 

is usually 

used for measurement, inspection (such as presence detection, defective product detection, digital statistics, defect detection), positioning, identification (such as code reading, color recognition), etc.
Applications of Machine Vision
Absence/presence detection
Automated vision testing and measurement
Bar code reading
Defect detection
Optical character recognition and verification
Part verification
Pattern matching
Sorting
Traceability
Vision guided robots
How Vancouver Automation can help you ?
Material Handling is an essential part of every automation system. Whether moving heavy awkward parts or small intricate precision components, efficient manipulation and control is essential. From the newest motor assembly to the most intricate surgical device, material handling and its flow ensures that components can be turned into assemblies that guarantees an assembly solution will not choke off critical up time or contribute to costly damage to parts or operators. Vancouver Automation through its experience along with its partners to provide technologically leading solutions that ensure the backbone of the custom equipment link together in support and harmony. There are many solutions that are tried and true and new flexible solutions that deal with the complexities in the market today. Material handling solutions range from linear solutions in layout and form too numerous to detail but include our partners: Robert Bosch power and free conveyor, belt driven solutions coupled with flexible feeders, bowls, hoppers with vision, and escapement devices that verify orientation and control throughout the assembly process.